Super Mario Sunshine
Jump to navigation
Jump to search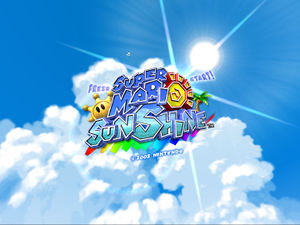 Super Mario Sunshine is an action/adventure platformer released in August of 2002 for the Nintendo Gamecube. It is a sequel to Super Mario 64.
Speed Runs
The current proven World Record for a complete-game, segmented Super Mario Sunshine run is 1:52:35, achieved by Tyler "Thiradell" Wishall on December 5, 2008.
Various Challenges
See Strategies for Super Mario Sunshine Challenges, including Il Piantissimo's Races, Blooper Surfing Safari, & more!
There is also a list of useful tactics that apply to both the game itself (e.g. speedrun) and its various challenges.
External Links