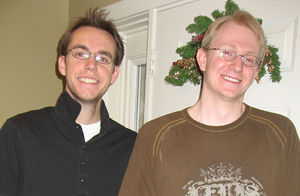 Ricky "Infil" Pusch is one of the oldest members of The Elite, having been one of the first 20 people to be listed on the Perfect Dark rankings.
The Elite
Infil was one of the key members in the early days of the Perfect Dark Elite, setting some truly insane World Records. He was also a major contributor of new strats, such as the Pause-Spin Trick, which allowed for Duel Agent 0:03. His climb up the rankings was swift and he reached the peak of his Perfect Dark career at 6th place in 2001 before retiring.
Infil is currently mostly active in the Elite Chatroom, however he continues to give invaluable contributions to many Elite Projects. Possibly his biggest has been KotHBot, a standalone program which handles the administration of KotH challenges; Infil designed and programmed this IRC-like .NET application from scratch over the course of a year, and was used for all applicable KotHs in 2008. Infil also somehow managed to win the 2009 Elite Summer Contest.
He is also a fan of puzzles, competing with team The Elite in various internet puzzle hunts since 2009. Infil also organized and ran (with Neo's assistance) the inaugural Elite Puzzle Hunt which took place in January 2010, writing some puzzles and administering the hunt for other Eliters.
Other Games
Infil is the Elite's resident music game and fighting game expert. He has played Dance Dance Revolution at a top level since 2000 and currently plays many other music games at the highest standard (examples include Guitar Hero/Rock Band, Amplitude (including a world record), Beatmania IIDX, and In The Groove). He is also a tournament-level Street Fighter III: 3rd Strike player, having spent more money than he cares to guess playing in arcades since 2002, and has played the Smash Bros series (Melee in particular) in tournaments for some time. He is currently playing Super Street Fighter IV, and has made some YouTube videos of difficult trial mode combos to help newcomers to the series. It's too bad not more of the Elite is into competitive SF or Smash, but whatcha gonna do.
He is good friends with Elite grandfather SnapDragon, a fellow Calgarian. Infil and Snap played games together frequently while both lived in Calgary (including beating all five Myst games sequentially and FAQ-less), and their friendship continued after Snap relocated for employment. Recently, Infil has developed a close friendship with octo, traveling to visit him in San Diego for 10 days in April 2008 after octo had spent a week in Calgary in December 2007. Infil has also been visited by DK and Comet. The Elite's first hockey GNC was scheduled to take place with DK, but was unfortunately canceled due to poor weather.
Outside Gaming
Infil has a BSc in Computer Science, with a minor in Pure Math, and earned his Masters degree in Computer Science in July 2009, researching computer graphics. When not at his computer pretending to do work, Infil loves sports. He has played on organized hockey and basketball teams for years and still plays recreationally today, and follows all four major sports daily. He also considers himself to be a good amateur poker player, having invested many hundreds of hours into studying and playing the game since 2005. Infil can also speak, read and write a smattering of Japanese, having spent a year studying it in university.
Infil enjoys a good sausage.
External Links