Red Bull
Jump to navigation
Jump to search
"Red Bull" has been one of the most skilled Perfect Dark and Goldeneye players from the Netherlands throughout the last 8 years. He is currently ranked as the best Dutch and European Perfect Dark player and is in the Top 6 worldwide. During his membership of The Elite, Max always kept on improving himself and despite the fact that he took some breaks throughout his speedrunning career, he always managed to come back with even more impressive records. His incredible skills, knowledge and experience with Perfect Dark resulted into his first untied world record in 2008. From that point on, Max has been dominating stages such as Deep Sea, Escape and Skedar Ruins with multiple second unties and has proven himself worthy as a contributor to the Overall Combined time. Max also contributed to The Elite by fulfilling the role of Perfect Dark news reporter, and is always up for some hilarious chatting in either the Elite Chatroom or on the Elite Boards.
History of Red Bull's Membership
Joining the Elite
Max joined the Perfect Dark Elite in the year of 2001. Impressed and stunned by the World Record video's of Marsh, the then World champion, he shared his enthusiasm with some of his friends and decided to take his speedruns of Perfect Dark to a higher level. Max made the change to controller style 1.2 after it was proven to be faster and immediately improved most his times sufficiently to enter the top 30, peaking at 24th in time. He was nominated once for the "Player of the Month" award in 2001.
Bannishment
Soon after, in accordance with the Perfect Dark Elite Proof Policy, Max was asked to show proof of his personal records. Unfortunately it was then technically impossible for him to put videos or photos online and he was subsequently banned from the rankings on January 2nd 2002.
Despite his ban, Max never actually stopped playing, continuing for himself and for fun. In fact, he also climbed up in the GoldenEye ranking to the top 30. During this time his love and dedication for impressive achievements on videogames also spread outside The Elite. Max was also very active in games like Super Smash Brothers Melee, the Legend of Zelda series, Super Monkey Ball & Super Monkey Ball 2, Imperial Conflict and more.
2006 - The return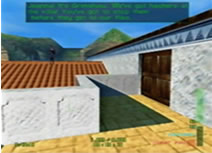 In the year of 2006, Max rejoined the Perfect Dark ranks, having finally been able to provide scrolling proof. However he had been away from active play for some time and had consequently dropped to a rank somewhere in the 50s. Neverthless after a couple of weeks playing, Max had reached his old peak of 24th again. After a quick session of speedruns Max also managed to get back inside the Goldeneye Top 100.
2007 and onwards
In 2007 Max kept on improving himself, achieving PRs worth more than 85 points and tied World Records like Defection Agent 0:06 and Duel Perfect Agent 0:09. However because of PAL disadvantages, around May 2007 he decided to stop playing Perfect Dark temporarily until he was able to purchase the NTSC version of the game. In the meantime, he teamed up with friend Carathorn to obtain records on the Co-op setting of the game.
Halfway 2007 Max finally got his hands on an NTSC console. In only a couple of days he PR'd over 25 times and quickly moved up the ranks.
After the insane World Record streak of Rayan Isran who became champion late 2007, a lot of members of the-elite expected Perfect Dark to be totally dominated. However Max decided to get his first untied world record, targetting Escape Special Agent 3:20. It took him a very long time to beat it, but he finally untied it by 2 seconds. From that point on he continued to develop his ability and has since obtained over 20 World Records including many untieds such as Skedar Ruins Special Agent 1:25, Perfect Agent 1:30, Deep Sea Special Agent 2:59 and Perfect Agent 3:10.
2009
Max was then ranked 3rd in time and 5th in points. Throughout the first six months of 2009, max achieved some impressive World Records such as Air Base Perfect Agent 2:05 and Escape Perfect Agent 3:18.
2012
As of the summer of 2012, Max recently lost his last untieds in Perfect Dark (some of them were untied for almost 4 years) as players such as Zezinho, Taka and Big Bossman beat his long lasting records. Haven't been very active for the last 4 years, he is still ranked 6th in Perfect Dark and in the upper 80s in Goldeneye.
Other Activities
Contributions
Max played online poker together with Carathorn, in order to win money so they could buy Rayan Isran his NTSC console and Perfect Dark Cartridge. Rayan was ranked 3rd at that time, and they decided to buy him this gift as he "deserved it because of his great talent". Some reactions from The Elite were:

"Incredible generosity!"
"omg you guys are super generous and doing a great favor to ge & pd speedrunning."
"What a great contribution to the elite you guys are making!"''

In December 2007, Rayan got his NTSC Console shipped all the way from USA to Pakistan, and quickly became the new PD Champion with an amazing lead, that stood for about 4 years. Rayan described it as the "best gift he has ever gotten".
External links