Phil McCanna
Jump to navigation
Jump to search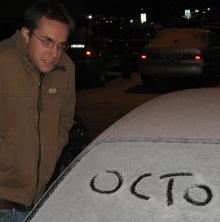 Phil "octoinky" McCanna was one of the first members of The Elite. He is primarily known for achievements in Perfect Dark multiplayer, Mario Kart 64 and Guitar Hero III.
Involvement with The Elite
Phil was a former updater and proof moderator for the Perfect Dark, Goldeneye, and License To Kill Rankings. On assuming that role he implemented a new proof policy which received some criticism, but ultimately achieved results.
Phil also spent one summer continuing the legacy of the Goldeneye World Records page, formerly operated by Derek Clark and Steve Bryze. The Goldeneye World Records Monthly gave Player of the Month, WR of the Month awards, and logs data and summaries of the achievements every month. While not as popular as the old design and witty writing of Derek, the page remains a historical log and award source for the community, and is still up to date with records from January 2006 - Present.
Phil had a a major presence in the Elite Chatroom, and has over 9,000 posts on The Elite Boards. He was also the trainer for the Goal Line Blitz starting ROT Oct. O. Tackle, and led the team in plays and pancakes in the 2nd season. To keep interest in Goal Line Blitz he created the slowbuilding team the October Wildfire which is poised to make a run at the Western Europe BBB1 conference title in season 8.
Gaming Accomplishments
Mario Kart 64 - devoted Summer 2005 to Mario Kart 64, where he made a name for himself as one of the fastest players ever to reach Legend C. With multiple god times and a current ARR of 3.219, he sits just outside of the top 50 in average finish and ARR despite only playing competitively for 2 months.
Guitar Hero III - extending his experience from electric guitar to the videogame, Phil was able to rise to a peak rank of 21st on the Wii platform and 160th overall at ScoreHero (out of over 10,000 competitors). He has perfected 44 out of 70 songs, and has achieved the highest rating, 5 stars, on all 70 tracks.
Perfect Dark - efforts focused nearly entirely in multiplayer. He was the second player behind Paragon to beat Challenge 30 on the 3 player setting without a second or third player. Phil also shutout Challenge 30 on the 2-player setting with Ricky "Infil" Pusch, and reached the level 3:Invincible without any stat boosting.
Goldeneye - only points scoring time used to be Streets Agent 1:15. Other than that, he hasn't put considerable effort into speedrunning the game.
Majora's Mask - created the Majora's Mask rankings, now taken over by N64HS. Competed with moderate success with about two dozen other Elite members across multiple minigames and sidequests available.
Other Gaming Interests - mains Luigi and Marth in SSBM and Lucas in SSBB. Is working on Stepmania, a DDR variant using the keyboard, and is playing on the highest difficulty setting for standard DDR and ITG stepcharts.
Personal Life
In mid-June 2008 Phil is graduating from University of California, San Diego with a B.S. in Applied Mathematics. Next year, he'll be returning to the University for the Masters program in Statistics. Octo also holds a job on campus, as Lead Field Liner for the Sports Facilities Office. That is, painting all the fields for the sports teams, clubs and rec department! He has held this job for the last 2.5 years.
Phil's personal life is centered around his girlfriend of 5 and a half years, Sarah Green, and they will be moving in together on July 7, 2008. Until that time, he is living with his two roommates Tim and Drew, featured in some of his SSBB videos. Phil is also an avid basketball player and fan (Golden State Warriors, Los Angeles Lakers) and has been playing guitar for 7 years. He played with multiple bands that had moderate success in the local scene in High School.
Phil has met with long-time Eliter Infil twice, once in December 2007 (Canada) and once in April 2008 (San Diego). Videos and pictures from the meets can be found in the links below. The two worked on gaming accomplishments together, and experienced what life was like in the respective countries.
External Links