Nathan Stinson
Jump to navigation
Jump to search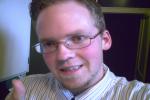 Nathan Stinson is a longtime gamer, having played videogames competitively since 1998. He has not accomplished much in Goldeneye or Perfect Dark, but was very active in the early days on N64HS, reaching the top 10 in all games for which they had ranks at one point.
He is known as an excellent Karter, becoming the top NTSC Super Mario Kart player for a short time. Nowadays he is in the top 50 at Super Mario Kart, Mario Kart 64 and Mario Kart Super Circuit, Top 100 at Mario Kart Wii (8000+ points) and is also on the Mario Kart Double Dash charts. He is also active in the Mario Kart 64 community as the updater of the Players' List.
Other games Nate enjoys include Counter Strike Source and Dr. Mario Online Rx (6000+ points) online. He is an active poster and chatter within The Elite and competes in many Pick'ems and Elite Fantasy Sports competitions.
Nate is recently very well known for having organized the 2007 and 2008 Elite/Kart meetings in Virginia, USA, and he has also attended most of the latter Elite meets.
External Links