Vitor Miranda
Jump to navigation
Jump to search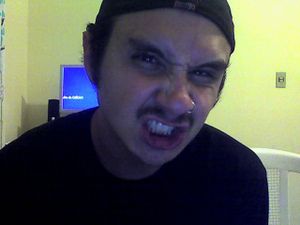 Vitor "Greg K" Miranda is one of the most popular active members of The Elite.
EliteBrasil
Vitor created EliteBrasil in 2001 and pretty much introduced the concept of speed running to the Brazilian gaming community. He maintained the websites, rankings and created a comprehensive Perfect Dark walkthrough guide that inspired many of the Elites greatest players to pick up the game and compete for times.
The Elite
In January 2002 he joined the Elite Perfect Dark rankings and immediately thrusted himself into a seemingly infinite PR rampage. By the end of the year, he had reached the Top 5, earning a POM mention (or better) in 8 of 12 months. He performed well again in early 2003, but soon announced his retirement from competition. He reached 5th on the Rare Ranks, thanks to his quick rise in the Goldeneye rankings and participated in some epic Challenge 30 shutout matches (56-0 two-player with Nari, 31-0 four-player). He now lives with Ghus Dark (who discovered the Skedar Ruins jump trick).
After his retirement, Vitor remained active on The Elite Boards, serving as a moderator of the Perfect Dark forum for a long time. In 2006 he made a small comeback to Perfect Dark, earning some solid PRs and later some World Records on Air Force One and Attack Ship in 2007. He also completed a few levels on Dark LTK and his overall ranking remained inside the Top 10.
As of 2012, Vitor is ranked 11th in points and 12th in total time.
Misc
Outside the-elite Vitor won the Brazilian Team Fortress Classic Championship twice with Nari in 2004 and 2005 and actively plays DOTA. Vitor is in his third year studying Computer Science, is almost an alcoholic and has been inseparable from his guitar for about a year!
Nickname
The nickname Greg K dates back to 2001 when Vitor was a big fan of The Offspring. He had no true nickname on the Internet, so whilst checking the names of the band he noticed the bass player was named Greg David Kriesel, aka Greg K. Vitor thought the name was cool so he immediately adopted it as his nick. After friends in Brazil found about his online persona he became known as Greg at home as well.
External Links