Grand Theft Auto: Vice City
Jump to navigation
Jump to search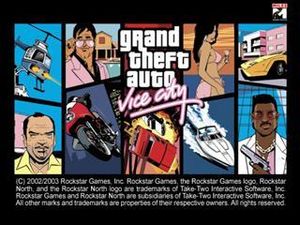 Grand Theft Auto: Vice City is a modern Action game released in October of 2002 by Rockstar North for the Playstation. The series entered three dimensions with Grand Theft Auto III and continued with Grand Theft Auto: San Andreas.
Speed Runs
The Speed Demos Archive hosts Vice City competition. The current proven World Record for a complete-game VC speedrun is 1 hour and 53 minutes, achieved in a single-segment by Daniel "CannibalK9" Burns on April 7th, 2008.
Daniel also also holds the 100% completion record with a time of 9 hours and 0 minutes done on May 13th, 2007.
Speed Run Strategies
External Links