Graham Maddocks
Jump to navigation
Jump to search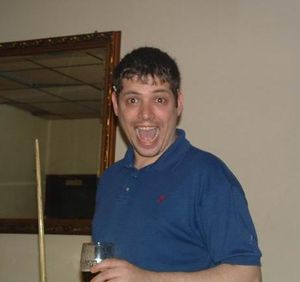 Graham "Gragz" Maddocks is a high ranked Goldeneye player from the fields of Derbyshire, England. He joined The Elite in January 2006 and aged 36 is one of the more experienced gamers in the community.
Graham used to be very active, playing many hours a day and regularly PRing. He has set several World Records, the best of which is Surface 2 Agent 0:49, which he untied in July 2007 - a record that David Clemens believed to be impossible to achieve at the time. He also set a record for the most number of hours spent to tie Dam Agent 0:53 - having invested around 500!
One of Graham's greatest contributions to the community was his "Goldeneye Score Manager" and "Elite Score Manager", followed by "the-elite Rivalry Kit" which was used excessively by players back in the day when the rankings was still updated manually, and praised for its neat tools (such as comparing player's times, scoring order etc). Although with the excellence of Your Eliteness's recent ranking pages, Graham's program has become quite obsolete and superfluous though some of its features are still reflected on the World Rankings today.
In his spare time Graham is a YouTube freak and would happily spend all day surfing the site. All Graham's Goldeneye videos have been uploaded there and he has a fully proven 60/60 set available to see.
Graham's most recent PR was Train Secret Agent 1:35 set in August of 2009. He used to be the highest ranked UK player (having knocked down long time leader Graham Morris) but has since then been passed by Luke "Lucky P" Pettit and Adam Bozon, who he has met twice.
Like many others, Graham claims to be the best looking Eliter.
External Links