Elite AIM Rankings
Jump to navigation
Jump to search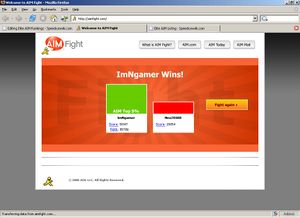 The Elite AIM Rankings... what are they?
The Summer Contests have given us an idea as to popularity levels within the Elite itself... but haven't you always wanted to know how popular we REALLY are, as in, worldwide? Luckily there's a place on this wonderful intranet called AIMfight.com, and it has all the answers!
AIMfight ranks your popularity by figuring out not how many friends you think you have (aka people on your buddy list), but by looking at how many friends you actually have (people who think enough of you to keep you on their buddy list). Just remember that the numbers you see after each name are not the actual number of friends, it's just a scoring system the AIMfight guys have come up with. With these numbers, "30.3" = 30,300 points on the popularity scoring system.
Where do you rank? Enter you screen name at aimfight.com to find out, then edit your result into the rankings! And if you'd like to chat with these popular fellows, you can find their screen names on the Elite AIM Listing.
Top Five Percent?
Since AOL Instant Messanger went open to the public on May 17, 1997, a total of 322,359,920 screen names have been registered. In order to crack into the Top 5% on AIMfight, therefore, you must become one of the 16,117,996 most popular users worldwide. The Elite's most popular chatter, Youse, is ranked in the top 500,000.
See Also
The World's Most Popular Eliters
(score is in thousands of points, ie 154,741 = 154.7)
External Links